All Things Unforgiven
"A searing portrait of family life behind genteel facades…​ ​Honest and compelling. Karamchedu's pages ​​are as unflinching as they are sympathetic… A frantic, stimulating, and involving novel, All Things Unforgiven​ ​offers up grand moral challenges…" —​​Foreword Reviews
One of the "five best debut novelists of 2014"—Brooklyn Book Festival 2014
A story of men and women who want to be beautiful and radiant in their lives, but who go on unleashing their savage madness.
In the volatile interior of Old Hyderabad, where the majestic tops of its extraordinary mosques stick out into the serene skies, lives a south Indian family, steadily descending into ruin.
Passionate and ambitious Anasuya dreams of bettering her education, but when she discovers her husband's affair, she is consumed by a desire to exact revenge.
Bright and joyful Rushi, brimming with resolutions and desires, believes in loving all humanity. But in a moment of frenzy he nearly kills his wife.
Growing up in this oppressive midst is their son, the spirited, sensitive Arya, unwavering in his love for them, but who from early on develops disturbing tendencies.
And when Arya, having left for America as a young man filled with shame, returns home in a troubled state, everyone's lives are changed forever.
Immersing the reader in cultural and moral dilemmas of modern India, All Things Unforgiven is an unsettling debut novel that depicts the whole of this south Indian family and charts their descent into oppression and violence – and their strivings for forgiveness and love.
All Things Unforgiven is the first English language novel published by Saaranga Books, a new publishing house committed to presenting high quality south Indian fiction.
Order
Amazon | Amazon India | iPhone/iPad | Google Play | Nook Book (Barnes & Noble)
Book Details
Full Title

: All Things Unforgiven, A Novel

Author

: Raj Karamchedu

Language

: English

Print Length

: 334 Pages

Print ISBN-13

: 978-0984576272

Publisher

: Saaranga Publishers

Published

: September 2014

Cover design

: Shilpa Shanker Narain
Media Enquiries
Please contact David Bukszpan at Buxus PR. Email: david@buxuspr.com | Phone: +1.646.770.0328
The Disconnect Patterns
iPad | Kindle | Amazon | nook | kobo
Full Title

: The Disconnect Patterns: Notes for Managing a U.S.-China High Technology Company

Author

: Raj Karamchedu

Language

: English

Print Length

: 224 Pages

Print ISBN-13

: 978-0-9845762-5-8

EPUB ISBN-13

: 978-0-9845762-6-5

Trim Size

: 5.5″ x 8.5″ (13.97 x 21.59 cm)

Publisher

: Saaranga Publishers

Published

: November 2012
Junko Yoshida, EETimes: "At a time when China observers in the U.S. struggle to unlock the mysteries of the Chinese market through academic books, this is probably the first practical volume by an engineering and marketing manager that targets his peers working for U.S.-China companies."
About this book
This book is about the disconnect patterns that appear repeatedly in a high technology company with operations in the U.S. and in China.
It is very difficult to work with China folks," 

"The U.S. team does not understand China."
Disconnects like these are at the center of most China-U.S. companies. They run deep. They do not spare anything, contaminating the company's day-to-day decisions, its execution and its communication. This book exposes such disconnect patterns.
When a China-U.S. company is infected with these disconnect patterns, it is like being thrown into a big washing machine, into that irreconcilable mix of the U.S. and China skill differences, time differences, language differences, geographical distance and culture differences – and spinning out of control into a maelstrom of execution failures, product delays, unhappy customers and eventually, layoffs.
Based on the author's experience as a COO and VP of product marketing in Legend Silicon, a pioneering China-U.S. fab-less semiconductor company, this book suggests ways to think about these disconnect patterns. It won?t give you easy solutions. But it will help you get a start. After that you are on your own.
Most revealingly, this book humanizes these disconnects by setting them in a fictional company, Emory Semiconductors. By showing the real-world struggles of the Emory employees, and showing how, after a crushing loss of their #1 customer, they crawl their way back out of the hole, it suggests directions, so you may craft your own solutions that fit your company, before it is too late to act.
Also visit: The Disconnect Patterns
It's Not About the Technology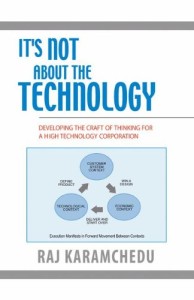 Full Title

: It's Not About the Technology: Developing the Craft of Thinking for a High Technology Corporation

Author

: Raj Karamchedu

Language

: English

Print Length

: 218 Pages

Print ISBN-13

: 978-3540779797

Publisher

: Springer

Published

: February 2005
From the Back Cover
It's Not About the Technology is about a phenomenon that is most dreaded by high-technology industry executives: a failure at the execution leading to a missed market window.
Executives in the high-technology space agree that without a doubt a critical factor that drives the company to such a failure is the breakdown of interaction between marketing and engineering. Most new employees, whether an engineer or a marketer, in high technology companies come ill-equipped to face this endemic breakdown and walk right into it.
This book is predicated on a radical notion that, even though execution is the problem in a high technology corporation,  insofar as learning the craft of execution goes, neither a high level market strategy nor the kind of technology itself matters. How marketers and engineers comprehend a context uniquely shapes the ways they interact, engage in decision-making phenomenon, and eventually their execution performance in a company. The breakdown of their interaction occurs when the individual contexts of a marketer and an engineer are secluded from one another. This book is not about a new concept, or a new technique. It tackles the big questions of how to develop the craft of the thinking that is required of us in high technology companies.
Drawing from fundamental economic principles and practical experience from the high technology semiconductor business, this book methodically demystifies the key to successful execution in the high technology space.
Also visit: Semiconductor Marketing